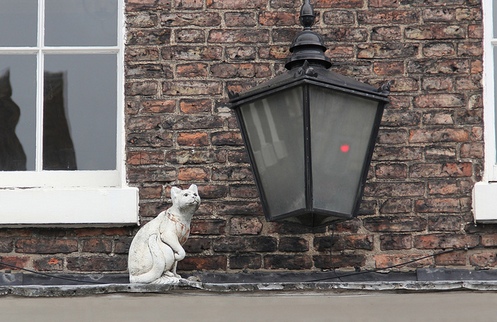 A 'York Cat'…
Had a great holiday in the UK – much time enjoying my own little clan and reconnecting with our extended family.
And while I've been gone, so much has happened this month in animal welfare news, I am struggling to pull it all together. So let's just do this!
* * * * *
First is news from PetRescue.
PetRescue's reach into the community is continuing to grow with 10% of the Australian population visiting the site each year (considering not everyone even likes animals, the number of pet lovers now considering rescue as a serious option is massive).
Adopters eliminate the need for killing and see pets leave shelters alive. Adopters are the answer to shelter killing.
We can rehome every adoptable pet by 2016. Based on the current growth of PetRescue rescue members and successful adoptions, the number of loving homes should well outstrip supply of available, adoptable animals in Australia in months, not decades. So if it's demonstrably not 'overpopulation' killing homeless pets, why are we still defending pounds who kill?
* * * * *
The Pound Reform of Australia has been hard at it, drawing attention to several issues in Victoria.
First, the number of dogs and cats killed at the Echuca Lost Dogs Home, is almost twice those being reported by their associated council, Campaspe Shire. The City is simply counting impounded animals, and ignoring private surrenders from their area, effectively making half their animals 'disappear'.
But thanks to a newly skeptical public who takes the time to examine figures, this discrepancy is being highlighted on the public record;
Rescued With Love sums up the situation ~ "I remember years ago feeling a sense of dread when I heard the Lost Dogs Home had successfully won the contract for Campaspe Shire to run their pound. I knew that the secretiveness would start, people would be shut out – and rescues left at the front gate empty handed. And so it did. Then the killing started and the rates went higher than before – and despite the public's distress the Council held firm – they could not be seen to be backing down on their decision. Now – the figures are showing the Council what cannot be ignored. And that ratepayers are paying for the courtesy of killing when they want the exact opposite. And so the cycle continues until Council are forced to choose another provider who will work with the community. The struggle continues……"
* * * * *
Next, is the details of a pre-Christmas cull in Shepparton;
Shepparton Council Animal Shelter is one of the many pounds we keep an eye on. One of the many pounds with high kill rates and dubious practices.

Throughout 2013 we were contacted by community members from Shepparton expressing concern about what was happening at the pound. They reported a number of disturbing allegations such as microchipped and registered pets being killed without their owners being notified their pet was even at the pound.

In December 2013 local residents were concerned once again when at Christmas-New Year the pound was closed for 8 days. The council website cheerfully reported that

"All of our animals have been rehomed in time for Christmas!"

and that…

"There are currently no lost animals on our database."

The Christmas period can be the busiest month for many pounds and shelters as they struggle to deal with additional stray and surrendered pets. Yet all very conveniently the Shepparton pound manages to not have any. Not one stray dog or feral cat. No, not one.

Were they ALL really all returned to their owners or rehomed for Christmas?

Documents we obtained recently under Freedom of Information reveal the following for Shepparton Council Animal Shelter:

Of the incoming 149 cats and dogs in December 2013, only 43 were reclaimed by their owners. That means there were 106 animals needing a home.

The pound managed to rehome just nine of those 106, and then killed the remaining 97.

"All of our animals have been rehomed in time for Christmas!"

So "all" actually means nine.

Just nine…
Remember folks, no one WANTS to kill pets.
* * * * *
The City of Port Phillip is currently inviting tenders for the Provision of Pound Services. The tender specification would appear to be unchanged since their last in 2009 when the Lost Dogs' Home took over from RSPCA Victoria as the service provider.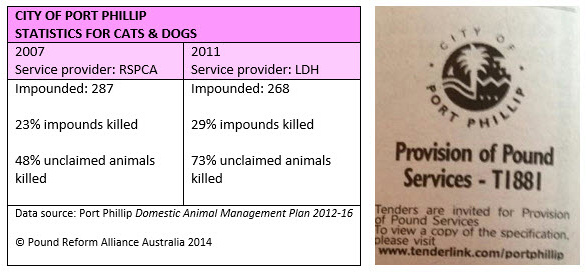 "By law, under Section 68A of the Domestic Animals Act 1994, every council must prepare a Domestic Animal Management Plan (DAMP) in which they are required to outline plans to address any overpopulation and high euthanasia rates for dogs and cats.

Port Phillip appears to be sufficiently unconcerned about the fact that their current service provider killed more animals than their previous one despite fewer animals being impounded. The Council have failed to include any strategies for lowering the kill rate in their DAMP nor any performance targets for reducing the kill rate in the tender specification.

Conclusion: nothing changes if nothing changes."
* * * * *
The Herald Sun has reported that the RSPCA Burwood has restricted access to strays by the public hoping to find their lost pets. An owner looking for her cat, was doing exactly what we demand people do – visiting in person and searching every cage – when she was reportedly denied access, in preference for a new system whereby owners must describe their animal to staff;
Our animal attendants will work with you to obtain identifying information about your missing pet, whether through a photograph or a verbal or written description, which they then cross-reference with our shelter system. If there is any clear match or even probable match, our animal attendants will arrange for you to view the animal/s.
Which of course is absurd. The shelter is citing quarantine concerns, however simultaneously offers no online lost and found service to give owners another way to look for pets, suggesting that reclaims are not a priority. They assure us they can be trusted to turn over every stone and that they boast "one of the highest rates of reunification in Australia", however their reclaims in reality sit at a horrifying 34%.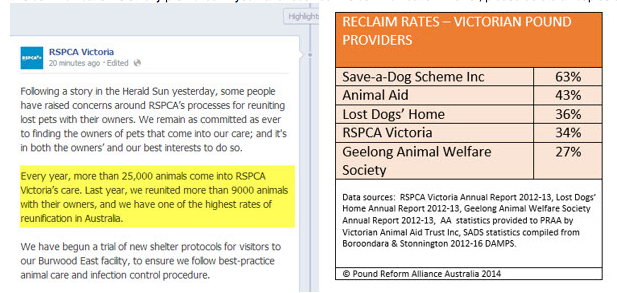 Photo source: The Pound Reform Alliance of Australia
The RSPCA Victoria doesn't have one the highest rates of "reunification" in Victoria let alone Australia, and they should be adding to their services to help lost pets, not restricting their existing – not terribly great – ones.
* * * * *
Darebin City Council is charging on with their pound revolution, under the direction of community group 'Save Darebin Pets' and Kathleen Chapman. The City is showing their appreciation by featuring the work of the group in their local community news.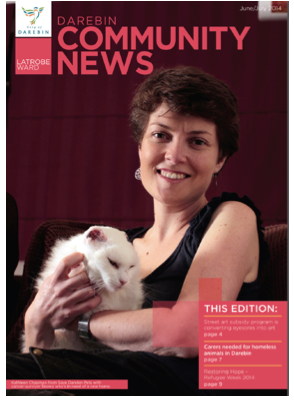 * * * * *
Trapped in some of the grottiest kennels in the nation at the Lost Dogs Home, by the state's Breed Specific Legislation, Mylo is still being a 'good boy'. In fact, so stable is this dog's temperament even after two years of incarceration, dog behaviour expert Jean-Claude Bertoni was quoted in a report to VCAT as saying he is 'so docile he could be therapy dog';
(Jean-Claude Bertoni's) report concluded that Mylo was not interested in responding aggressively or excitedly when being walked around other excitable dogs; was able to deal with stress confidently yet gently without showing unwanted submission; was able to deal with the escalation of his own drives through self control; was able to tolerate and embrace being touched everywhere in the same way a qualified therapy dog would; had proven he was able to deal with aversive situations in a manner greatly exceeding that of other dogs regardless of breed and sex; was able to meet some of the key evaluation criteria aimed at testing the suitability of dogs to be classified as therapy dogs, which only a select few were capable of passing.
Despite this rave review, Brimbank City Council is determined to euthanise three-year-old Mylo, claiming the dog is a restricted-breed pit bull terrier. His family is holding a candlelight vigil and known dog lover Darren Hinch has spoken out on his behalf.
Note: The only fault with his otherwise excellent commentary being, that he mention he still 'supports' the legislation which has seen Mylo impounded. Sorry Darren, if you support BSL, you support friendly dogs – like Mylo – being stolen from their homes simply for how they look.
* * * * *
Moreland Council is looking to crack down on cat traps amid concerns residents are using them as a cheaper means to dispose of unwanted family pets. Well, duh. And other people's pets too is the likely guess.
* * * * *
Victorian meter readers are carrying pepper or 'capsicum' spray to protect themselves from dogs. A timely reminder to ensure visitors are able to access your service boxes and front door without interacting unattended with your pets, to keep everyone safe.
* * * * *
Pets don't always go straight into the shelter. 'Mick' the dachshund who was lost during a car accident, has been found after 155 days on the run. 'Tilly' the red labrador has been returned to her family after five and a half months lost. While 'Shelby' the tuxedo cat turned up after a staggering thirteen years!
Never, ever give up home. And make sure your pet is microchipped and that the chip tested as functioning and readable regularly throughout your pet's life.
* * * * *
SA — new legislation being designed by The Paw Project and the Greens' Tammy Franks will offer protections to homeless companion animals who find themselves in the pound.
Hon. Tammy Franks MLC media release also included the need for reducing the "unacceptable and unnecessary" kill rate in animal shelters in South Australia. She acknowledges that RSPCA SA release their annual kill statistics, but it still remains a purposeful obstacle that other SA shelters, including AWL SA do not release their kill statistics. Hon. Tammy Franks MLC states "in the interests of truly improving animal welfare outcomes, these figures must be published."

Hon. Tammy Franks MLC is an advocate for CAPA: Companion Animal Protection Act www.pawproject.com.au/capa.html

The status quo of unacceptable companion animal breeding and shelter killing will one day be a thing of the past in South Australia.
Unfortunately, as part of this initiative is a link to compulsory desexing of dogs. Both existing pets, and even more worryingly a push for desexing before sale;
In response to a State Parliamentary committee report into dog and cats as companion animals, (SA Environment Minister Ian Hunter) also has promised a new code of practice to crack down on breeding by so-called "puppy farms".

But the minister says, for now, the Government will not be adopting the committee's recommendation of a licensing scheme for breeders.
…
Greens MLC Tammy Franks says a crackdown on unscrupulous breeders is needed, but a planned new code of practice may not go far enough.

"We'll see whether pet shop sales are further regulated and we know that's a source where puppies from puppy factories are sold," she said.

"We talk about desexing – that's all well and good – but if you desex animals before they're ever sold that's probably an even stronger step that we could take to ensure that we don't have breeders who are doing the wrong thing."

Tim Vasudeva of the RSPCA says any move for compulsory desexing of dogs in South Australia could have benefits.

"There are studies that obviously link behaviour in dogs in particular to desexing in terms of their tendency to perhaps wander if they're looking to mate or potentially hormone-driven behaviours," he said.

"At the very least I don't think it can hurt and it also helps to address the issue of unplanned and unwanted puppies."

The SA Government says there will be $1 million in Thursday's state budget for the RSPCA to boost its services.
High rate of pet desexing is good for pets and for communities – we all know that. However, whenever we invest in models of enforcement designed to punish pet owners for non-compliance, we drive those animals of non-compliant owners into the pound. If we are serious about saving lives, we must invest in those programs proven to keep pets out of pounds.


* * * * *
Of 63 cats seized during a raid on a cat breeder by the RSPCA South Australia, 80% were killed because they either had Feline Immunodeficiency Virus (feline AIDS) or were 'feral'. The case is currently before the courts.
(Earlier reports put the number of seized cats at 124, and that just 11 cats were able to be 'saved').


* * * * *
NSW — the RSPCA NSW is facing community criticism over the planned closure of the Katoomba (Blue Mountains) shelter, dropping the animal managment contract in Dubbo and the animal adoptions component at Tweed Heads. There's quite a lot of backstory to this one, so I will put together something more comprehensive shortly.


* * * * *
The Country Women's Association (CWA) has unanimously last month to call for a cull of pet foxes. In NSW it isn't illegal to keep a domesticated, desexed fox as a pet, and the CWA believe groups such as Sydney Fox Rescue want to "rescue, rehabilitate and rehome" these animals so that orphaned and injured foxes "can live happily and comfortably in a family environment" in the city, are doing farmers a disservice.
"Fox rescue organisations appear to be based in and around Sydney and perhaps appeal to city people with little or no experience or understanding of the problem foxes pose in the wild.
Yes, those city slickers with baby foxes living comfortably in their loungerooms should show the same compassion as the CWA and kill them all immediately.
* * * * *
Cootamundra Pound is located in the Riverina district of NSW. Community animal lover Hannah Orr has instigated a revolution, in conjunction with the council including saving the lives of unclaimed pets, and lobbying for a $120,000 pound renovation. An investment which has now been approved, with work starting on the new pound next year.
* * * * *
The Society of Companion Animal Rescuers Inc (SoCares) has been awarded the contract to manage and operate Wyong Shire Council's Animal Care Facility. This is a major win for compassionate sheltering policy, and the words from their management, David Atwell – as always – are inspiring;
Over the next week or so we will publish our plans and strategies which we will introduce in order to ensure the best outcome for the companion animals at the Wyong Animal Care Facility. Chief amongst these is the increase in rescue group participation in order to save the lives of these animals. We will be committed to all Clause 16D Certificate groups, where just the wholesale cost of the microchip will apply, whilst all SoCares group members will have this fee waived. We will contact all such groups, in the near future, formalising this commitment on a regular weekly basis.

And finally thank you all for your support. A small battle has been won. But please remember the war continues against the kill rates. In this endeavour it is vital that we gain your help to save these lives as we cannot do it alone. I hope and trust you all will join us in this fight.
* * * * *
The newly formed Bombala Cat Action Team (CAT) is preparing to tackle the town's homeless cat problem. Unfortunately, they're hinging their plans on a failed model – catch and remove.
Cat coordinator Heather Brown said she hopes to reduce the number of cats and kittens that roam the streets – estimated to be more than 100 – by catching, desexing and rehoming them.

"We are trying to approach this from an environmental point of view," Mrs Brown said.

Mrs Brown also hopes cleaning up the cat population will also improve tourism and the general appearance of Bombala's streets.

"I've had a few comments from the public that cats are going through public garbage bins at night and pulling litter out on the street," she said.

"There have also been comments from tourists that the streets smell because of the cats."
Can you imagine any other advocacy group running down their clients in the same way cat groups do? A homeless people organisation coming out and saying "the homeless are unwashed and tourists complain they smell and bring down the appearance of the place".
The City has a textbook cat 'problem'. That cats are living alongside human in the way they always have done.
In the last month Ms Brown has caught 19 kittens from behind the supermarket and there are still more to capture from that location.
…
"We will try to tame and rehome adults but often that is harder and unfortunately there will be some circumstances where we will have to euthanise them," Mrs Brown said.

"This is an unfortunate aspect of the job but it's not a great life on the streets for a cat anyway.
Better off dead – with friends like these, cats really don't need enemies.
* * * * *
TASMANIA — The RSPCA Tasmania has come out pouting, saying that despite a long history of extreme financial and animal care mismanagement they shouldn't be punished with a reduction in government funding:
New president Rod Bowerman said the RSPCA was expecting to receive $400,000 (a decrease from the previous $600,000 given by government) compared with costs of $715,000 to run a statewide ­inspectorate.

On Saturday, Premier Will Hodgman announced a $200,000 funding cut and a new board for the RSPCA. But Mr Rockliff said the funding was consistent with the organisation's level of funding.

"The RSPCA received additional funding in recent years because as an organisation it was fundamentally in crisis. As the Premier said, the RSPCA needed to clean up its act and we are hopeful that the new board will do exactly that,'' Mr Rockliff said.
Greens MP Cassy O'Connor says this cut will lead directly to less animal welfare inspections for the state:
Ms O'Connor said she believed the funding cut would mean the RSPCA would stop investigating reports of domestic animal neglect.

"I understand the RSPCA will no longer undertake an inspectorate role in the rural and agricultural sector. That work will now be left to the Department of Primary Industries,'' she said.

"With respect, that's not unlike leaving the fox in charge of the chook pen.

"The RSPCA is an independent organisation that has a 97 per cent conviction success rate once a matter goes to court.

"A government department is not an independent entity.
No, but a government department is answerable to the public – which the RSPCA isn't as a private charity.Which is exactly why it took decades of lobbying and a Parliamentary Inquiry to bring to light the extreme financial and animal care mismanagement going on behind the scenes at the RSPCA Tasmania.
If anything, the Tasmanian experience should be a lesson in exactly why other state governments should take back responsibility for animal welfare law enforcement currently tendered to private charities with little to no regulation, and put it back into the hands of government.
* * * * *
WA — The introduction of new cat laws has seen the regional city of Bunbury's rescue groups inundated with cats. The South West Animal Rescue group has reported a surge of cats and kittens needing new homes as people hand over cats, fearing large fines.
According to group president Tanya Adams, the number of unwanted cats was doubled from the previous year and tripled for unwanted kittens.
"It is sad that so many cats are being dumped but at the same time, it is better to weed out the people who don't really care and don't put any monetary value on their pet."
Is it ethical to champion cats being driven into pounds – knowing what we know about cat/pound outcomes – if in the future we could potentially see a benefit? Can we kill our way to No Kill? Should we?
Readers of this blog will know there are literally dozens of examples in Australia, where cat laws were championed as the answer, only to drive up impounds, and fail to make any real inroads into the semi-owned and free-roaming cat populations. Bringing cats into rescue, on a hunch that WA's situation will buck the trend seems like a pretty large gamble.
But it's not only regional rescues struggling with the enormous volumes of cats falling foul of the new laws.
. . . . .
In Perth city, major cat shelter The Cat Haven is also dealing with record numbers of impounds, with double the usual number of cats in care.
Cat Haven spokeswoman Chandra Woodley said the Cat Haven was nearly at capacity with about 250 cats on site whereas the shelter would normally have only half that number throughout winter.

She said operating the shelter at its maximum 300-cat capacity cost $4000 a day and put a great strain on staff and volunteers.
But rather than blame the cat laws, for the shelter being at capacity several months out of 'kitten season', they have a rather more creative reason for the surge… global warming.
Cat Haven spokeswoman Chandra Woodley said a litter of kittens was born at the shelter just two weeks ago, a very rare occurrence because the breeding season usually ends in April.

"The kitten season has been extraordinarily long this year with it being drawn out from November to June due to the warmer weather continuing," she said.

"Cats normally only breed in the warmer months so although we are used to large influxes of kittens normally from about November to April, we have kept on getting kittens surrendered to us."


* * * * *
As any fish lover will tell you, the humble goldfish is as smart as a cat or dog. But did you know, if cared for properly they can live more than a decade? Miriam Sullivan, a Lecturer from the University of Western Australia said earlier studies had shown fish were able to remember important information, cooperate with each other, solve mazes, recognise themselves in mirrors and can even count.
Just think about that for a moment.
* * * * *
Being an advocate can be tough, but evidence is mounting that animal advocates suffer more abuse than most. Veteran animal campaigner Debra Tranter is standing down as the head of Oscars Law, after being targeted with threats, bullying and intimidation. A very sad day for animals.
* * * * *
Speaking of dirty puppy farmers, the Pet Industry Association of Australia (PIAA) has announced (yet another) CEO, Mr Mark Eagleston. He's the fifth head in ten years, and the tenth leader since the organisation was incorporated. And that's not even including its cat killing President Steve Austin.
* * * * *
Some international news…
Redemption – the book which galvanised compassion around the world – is now a movie!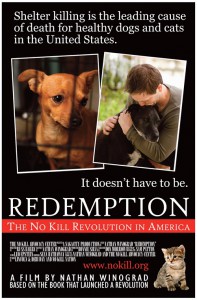 Since Redemption was first released in 2007, hundreds of counties, cities and towns in the USA have embraced the life-saving formula it detailed, and as a result have achieved live release rates of more than 90%. They have ended the killing of healthy or treatable pets in their shelters community-wide. For more info visit www.nokillredemption.com.
* * * * *
The National Canine Research Council (US) has reviewed Victoria's breed-specific dog laws ~ 'Breed-specific legislation in Australia: a cruel mandate imposes big costs'
* * * * *
An animal rescuer in the US charged with theft and racketeering for taking money from surrendering owners, only to then kill their pets.
Given this scam is common practice in major shelters in Australia, I'd suggest this is notice to anyone who believes that some fine print on a surrender form makes it ok.
* * * * *
KC Pet Project (US) has released a short video giving a little insight into how they turned their local shelter from high kill, to a safe place for the community's pets. It is definitely worth taking a few minutes to watch.
* * * * *
Researchers have stumbled on a potential cure for parvo-virus. It is currently being trialled in shelters, including in the parvo treatment ward of the KC Pet Project (above).
* * * * *
A donation which had been left in good faith by an elderly animal lover to the UK RSPCA has been used to pursue his relatives for more money.
* * * * *
Adoptions save lives. The Maddie's Fund Pet Adoption Days – the nation's largest free pet adoption event – saw over 15,000 dogs and cats find homes in two days.
…..
The Just One Day promotion, saw shelters and pounds market their pets, extend their trading hours and empty their shelters. The previous year saw 12,000 animals adopted. While this year's adoptions are yet to be tallied, hundreds of groups had pledged to be involved.
…..
New data from the ASPCA debunks a common mantra about pit bulls in shelters being unwanted or undesireable. Pit bulls are one of the most popular types of dog throughout the United States, now data shows people want to adopt them from shelters also.
* * * * *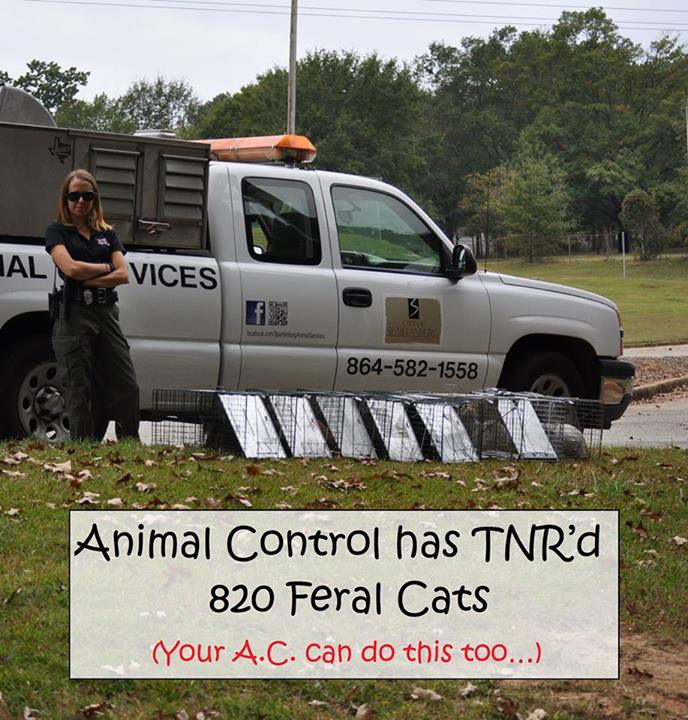 Spartanburg Animal Services – in just 15 months, and by TNR'ing 820 cats, Spartanburg Animal Services have reduced shelter intakes by more than 50%. Cat complaint calls are down over 80%. Still doubt that TNR works? And can't show positive results in a short time?
* * * * *
Phew!