Councillor Mike Hudson from Unley Council (SA) is pushing for mandatory cat registration and two-cat per household limits to be introduced in the city, to bring the district into line with its neighbour Mitcham.
Now, Mitcham Council is a 'funny' demonstration of success. For starters, their Cat Management Officer didn't know their impound stats until I chased him to get them (they impound with the local RSPCA). The reason he didn't know is because intakes isn't the metric they're using to judge 'success' – instead the laws are about increasing council's capacity to deal with strays. And obviously keep council workers in a job.
The City of Unley doesn't really have a cat 'problem', with "only five feral cat complaints in the past nine months", however it doesn't stop Cr Hudson wanting to demonize them as much as possible, blaming them for – wait for it – road traffic accidents;
"There are far too many cats in some houses. It's smelly, noisy and can be dangerous if you end up swerving across the road to avoid them."
So you smelly, noisy cat owners of Unley, look out. Ignorant pollie headed your way.
* * * * *
As reported by the Pound Reform Alliance of Australia, in 2008 a $1.3 million purpose-built Regional Animal Pound designed to "help increase adoption rates and improve animal welfare" was constructed for the Shire in Echuca (VIC). It was subsequently leased to the Lost Dogs' Home.
Five years on the outcomes for impounded cats and dogs haven't improved.
* * * * *
Darebin Council (VIC) calling on neighbouring councils to collaborate in establishing a local No Kill animal shelter as an alternative to the Lost Dogs' Home. At last week's meeting, councillors unanimously supported a $10,000 feasibility study of the proposal.
As more and more communities lose faith in the capabilities of the major charity pound providers to act in a compassionate and effective fashion, and the refusal of these same provides to evolve and begin to reflect the needs of the community – so the push to bypass them has begun. A major city embracing No Kill is a real game changer for the state of Victoria and we will continue to watch with interest.
* * * * *
From WA – in a state of 2 million people, just 8 have been issued fines for an unregistered cat, under WA's new cat laws. This, and an unprecedented level of impoundment and killing, is set to lead to cat management SUCCESS according to cat welfare groups in the state.
Certainly – they admit – it won't happen overnight, but if we just invest hard and kill enough cats, it WILL happen… #deadcats
* * * * *
Walking not running. A well run shelter will kill less than 10% of its animal intakes. Really effective shelters see their kill rates drop under 5%, as low as 2%.
Justice for Max has done the sums. In a wealthy, pet loving nation like ours, and when the RSPCA is given more than $100 million dollars a year to operate, these kill rates are simply unacceptable.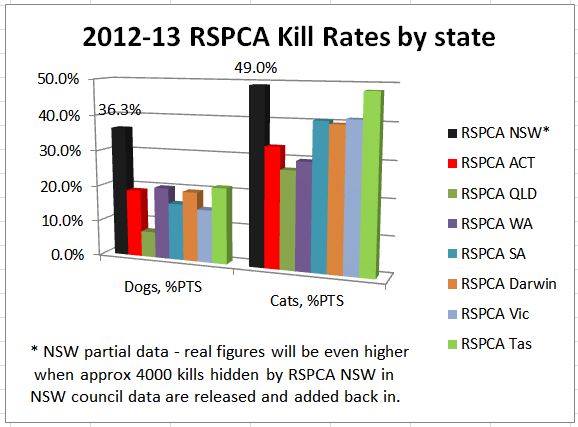 This will not change until the community rejects killing as an appropriate method of managing companion animals. Until all major shelters get out of the business of efficiently killing animals on behalf of local councils, and instead embrace and adopt No Kill programs and services.
* * * * *
The RSPCA NSW is dropping the Dubbo pound, with the tender due to expire on June 30.
Why would a charity mega-pound provider start dropping regional pound locations? Several reasons. The $330,000-a-year contract is peanuts to an organisation with a $50 million cash and investment portfolio of surplus donations, and running the pound looks less appealing when pets have to actually be saved, rather than dumped into incinerators.
By dropping the pound service tender, the RSPCA can still collect the very best of the animals, leave the rest for Council to deal with and voila! Lovely clean animal 'save rates' and a bit less bad PR for all the killing;
RSPCA animal care services executive manager Brendon Neilly said the new phase was part of being efficient and looking at how it could best serve the local community with the resources it had.

"We will be focusing on our work with our branch and (pet shop) Petbarn, which is re-homing animals for us, so we can continue to support animal welfare in Dubbo without running the pound services for the council," he said.

The new model will involve the recruitment of a mobile officer who will help with animal transfers and works with the local branch and Petbarn.
It really is an extremely smart move, as a method for the brand to rebuff the negative PR over it's kill rate, the RSPCA NSW has been receiving in the last few years. Keeping the true kill rate away from little-old-lady-bequestors has become the new 'fundraising'.
(See also: 'How a shell game is killing our pets')
* * * * *
Who will run Hervey Bay's new $500,000 pound? The Fraser Coast Regional Council (QLD) has now finished the 24 new pound and 24 refuge kennels, plus cattery.
(Please let me know in the comments if you know any further detail, as the last announcement was in October last year).
* * * * *
Yarra Ranges (VIC) Mayor Fiona McAllister says a "common sense approach" will be taken by council officers in enforcing the 24-hour cat curfew, saying Council staff won't be doing as "moggy patrols". Which is code for… 'we're going to arm the public with cat traps and just let 'em go for it'.
I'm sure the City's cat owners are greatly reassured knowing a cat-hating neighbour will be doing council's animal management work for them.
* * * * *
Companion Animal Psychology blog looks at a study examining, 'What People Look for When Adopting a Dog?'.
The UK study in a nutshell found of the 2,000 dogs, unsurprisingly, those adopted fastest were small breeds, puppies and the pedigree dogs, with larger dogs taking longer to place. Having a health problem seemed to be little obstacle to adoption, but having a behavioural problem was. There seemed to be no evidence of 'black dog syndrome' or a resistance towards people adopting darker coloured animals. To read the full review of the study 'Investigating Some of the Factors That Influence "Consumer" Choice When Adopting a Shelter Dog in the United Kingdom please click here.
* * * * *