I've been super busy with the new bubs, but here are some of the most important – and some of my favourite – links and stories from the last month or so. Hope you enjoy and thanks for reading! :)shel


Pet lovers know, what pounds refuse to learn… "Don't give up hope, advertise everywhere, and join the lost and found sites."
………………………………….
Dubbo RSPCA blasted 'irresponsible owners' – fails to put the same effort into adoptions (image below). But you know ~ overpopulation.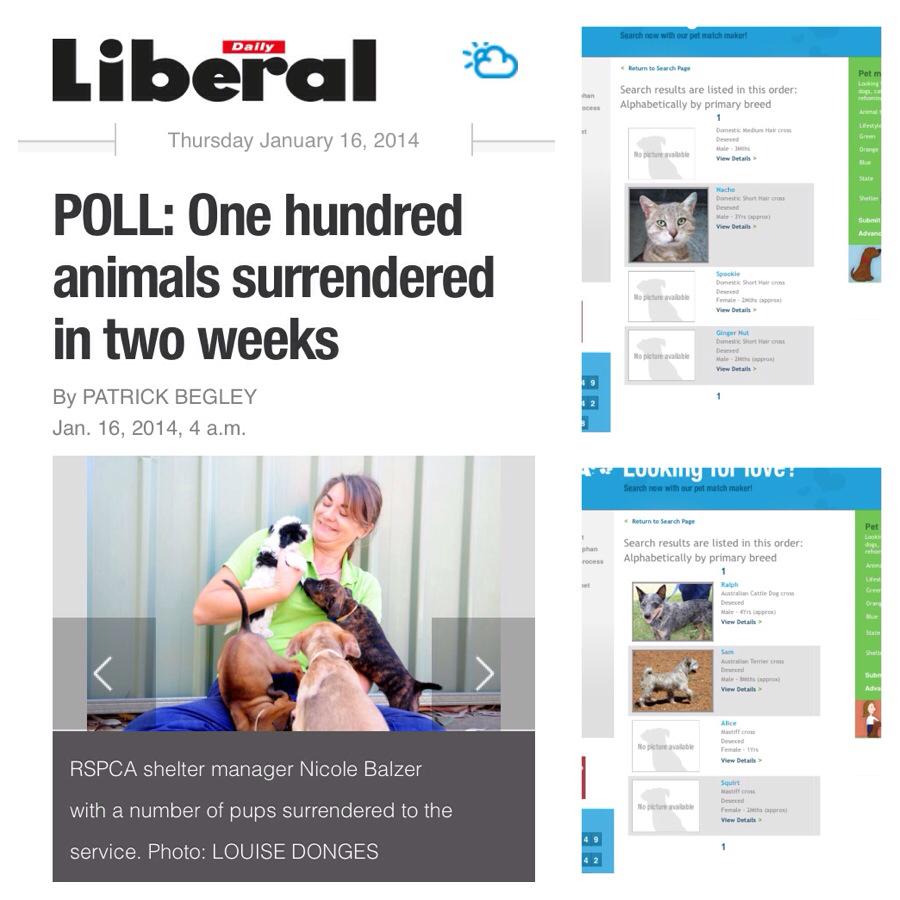 ………………………………….
Seth Godin reminds us, We don't need more 'awareness'.
………………………………….
Campaigners slam killings at Blacktown Pound
'It's becoming obvious that councillors are the very irresponsible public they blame for the killing in pounds,'' she said.

''Both these dogs were held in the most trying circumstances for months and then killed, on temperament grounds, for not coping.

''Your facility sends them nuts, yet takes no responsibility, then kills them for being nuts. Then does it again – and again.''
………………………………….
Videos from the AIAM/AMRRIC Conference from last October, accessible now.
………………………………….
This owner is doing a great job drawing attention to the dysfunction and indifference in so many of our nation's pounds.
………………………………….
There is always haters standing by to encourage and defend unnecessary killing… "There was a lot of debate flying around as to whether we were doing the right thing. More than a few people called us cruel for putting the pups through it. Quite a few people told us the only humane thing to do was to put them out of their misery." Saving Puppies with Parvo.
………………………………….
SAFE Perth are receiving a record amount of calls to help out cats – have you got room for a little kitty?
………………………………….
The major orgs tell us killing half of all pets left in their care is appropriate. It is necessary. There is overpopulation. There is no other way. And that as the 'experts', their actions should not be questioned. Then a young pet lover comes along and saves a couple of hundred pets in a few short months. And she does it without millions in the bank… Well done Hannah! Amazing work!
………………………………….
These guys are a great follow, if you're working on ending killing in your community —> Pound Reform Alliance Australia
………………………………….
Got some 'splaining to do…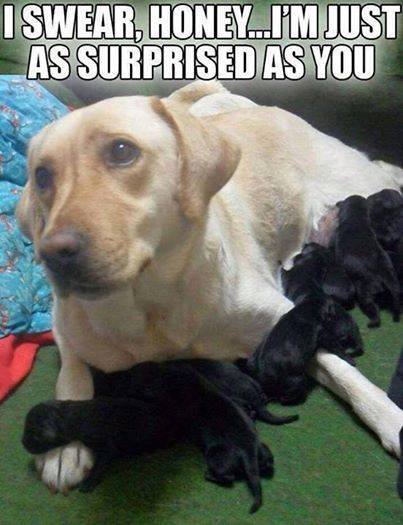 ………………………………….
"… We were operating with an administrator that had been with us for over 20 years and who was extremely resistant to change [and] Outdated policies were built on myths and fallacies…"  There was a time when the Upper Peninsula Animal Welfare Shelter in Marquette, MI shelter killed more than six out of 10 animals. Today,  has a 97% rate of lifesaving (2013).
………………………………….
RSPCA Ballarat (VIC)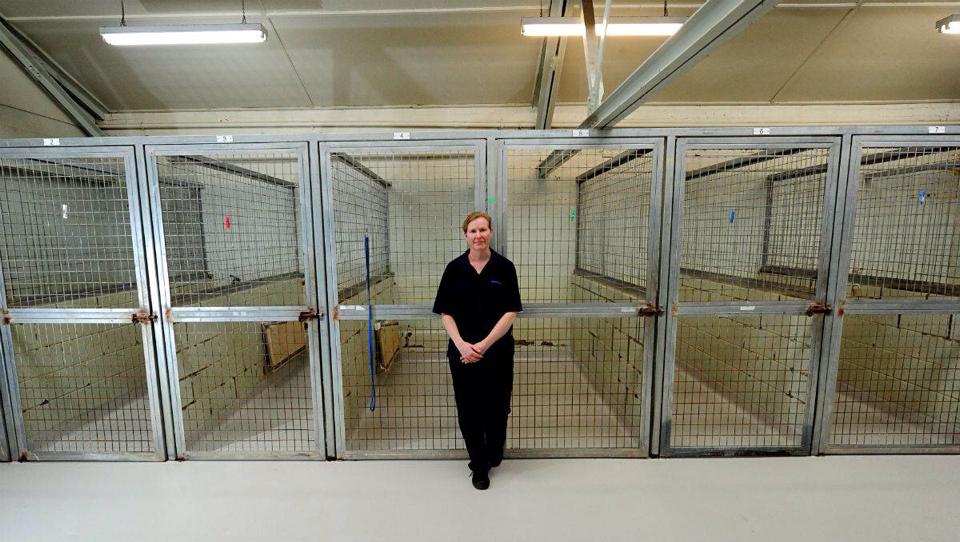 This is the new reality in animal sheltering. At the end of last year, community pressure saw the RSPCA Ballarat nearly lose its pound tender in the city, to another organisation viewed as more focused on saving lives (http://bit.ly/1grt62i).
Now, instead of 'woe is me' messaging blaming the community, Christmas gift giving, fire works, summer holiday, or any other of the myriad of excuse used to justify killing – we're seeing a promotion of effectiveness. A shelter promoting the fact they've done their job and that they are now empty. A significant change of strategy.
There will be much more messaging like this in future. Sometimes it will reflect a change in policies which see more lives saved. Sometimes it will be spin. The challenge will be telling the difference.
………………………………….
RSPCA Malaga (WA)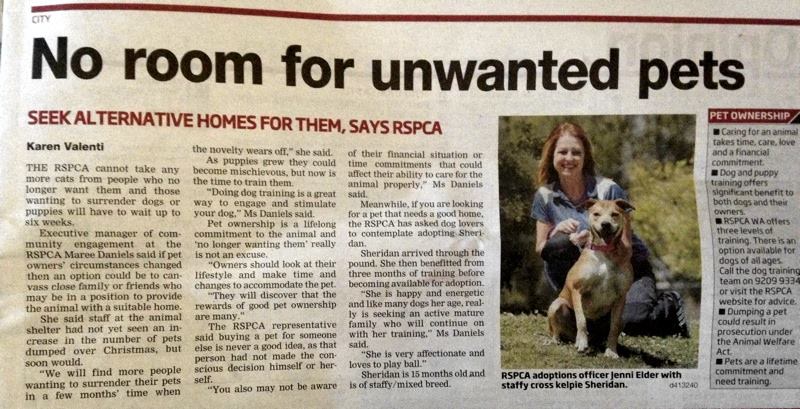 For several years, the RSPCA WA lobbied the state government for 'cat laws'. WA ended up with some of the most regressive laws in the country. Now, just two months after their enactment, it has a message to the community;
We're full. We can't help you.
"The RSPCA cannot take any more cats from people who no longer want them…"
There is a lot proactive organisations can do to make life better for cats. Unfortunately, the RSPCA WA have chosen to throw cats under the bus with bad laws – and now they've shut up shop, leaving needy cats at the mercy of council pounds.
………………………………….
Are your rescue's animal listings more horror date, than love story?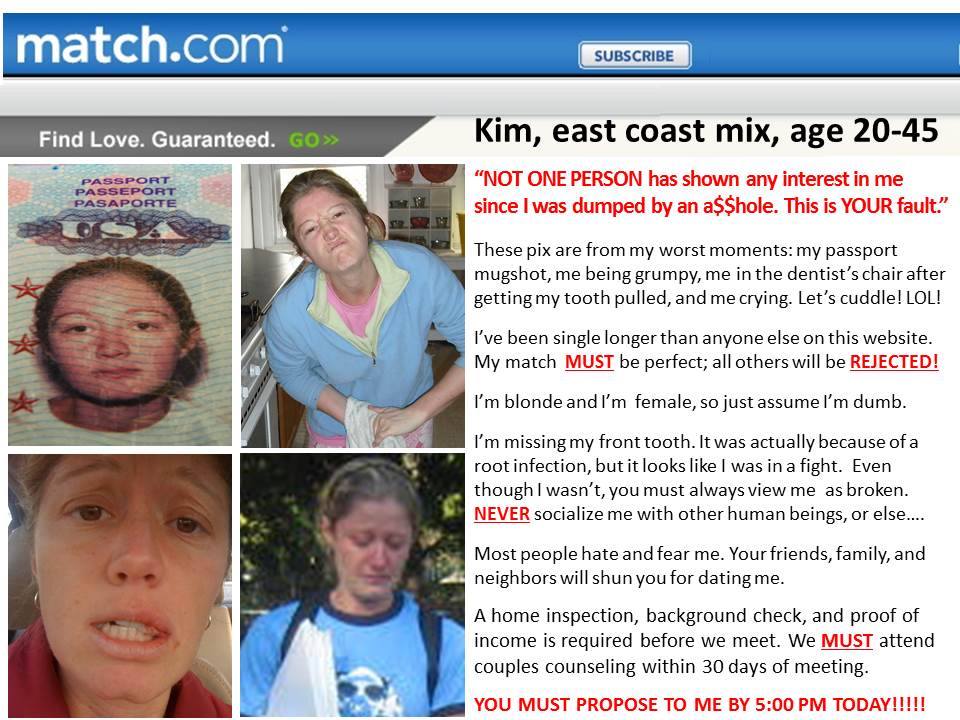 If your local pound/shelter/rescue's listings are similar, you might want to show them this.
…………………………………. 

If you want to comment about bikies, or immigrants then radios 3AW is the place. But if you want to ask the Lost Dogs Home why they still choose killing, rather than photographing lost pets, then expect to be censored. Zero published comments on their recent Lost Dogs Home spin piece.
………………………………….
Nothing is happier than a dog with a job
………………………………….
"If you haven't got a tag on the collar then the good Samaritan has to take the extra step of confining the animal and taking the animal to a facility with a microchip reader. It's a bigger ask and it reduces the chance that the person will follow through." ~ The West Australian
Here's an idea – how about if the cat is happy, healthy and not distressed, we LEAVE THE CAT ALONE. Your neighbours won't thank you for taking their cat to the pound. Unowned cats suffer and die in pounds. Treating cats 'like dogs' only has one result – dead cats. Good outcomes for impounded cats are practically non-existent. So collar or no collar, leave the cat to find its own way to home.
………………………………….
Less killing is not the way forward. Instead we need to completely reject an animal management system that accepts killing.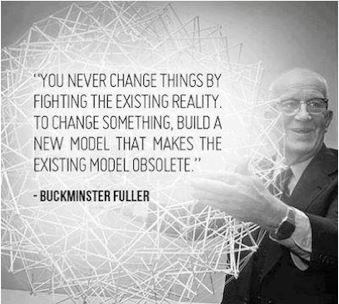 ………………………………….
New Zealand disaster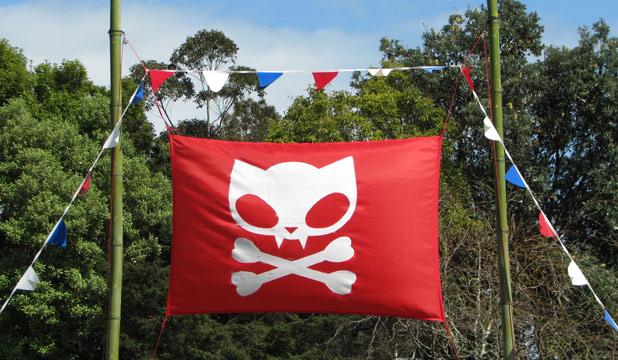 The misguided logic of a Raglan cat killer is having disastrous and unintended consequences for a community's local birdlife, an ecologist says.

Adrienne Livingston, a private ecological consultant and former ecology lecturer at Northland Polytechnic, is concerned about the number of half-eaten eggs and dead chicks she is finding strewn across her back yard.

"I am now observing the effect the marked absence of cats is having on this suburban ecosystem.

"The cat killers are known to be birdlife enthusiasts, she said, but instead of helping native birds, they are enabling the rodent population to rob bird nests unchecked.

She said cats were the apex predator in the immediate area, but their absence had allowed rats to flourish.

Livingston said she was only monitoring about four bird nests in her backyard, but evidence from the small sample size suggested "total annihilation".

Landcare Research wildlife ecologist John Innes said it was possible the removal of cats in an urban area could have a net bad outcome for wildlife.

"Ship rats are the tree climbing rat that decimates most native birds in New Zealand and they're a major item of cat diet."
~ Stuff NZ
………………………………….
Utterly gorgeous – very 'Simon's Cat'!
………………………………….
"The truth is, we may have maximized what we can do with surgical spay-neuter," said Joyce Briggs, the president of the Alliance for Contraception in Cats and Dogs, a group advocating alternative approaches. 
It is also an impractical solution to sterilizing stray animals, which constitute the bulk of America's nuisance animal problem.
Now, a handful of nonsurgical sterilization treatments are emerging that could reduce or even eliminate the need for traditional neutering." ~ The New York Times
………………………………….
The major cat shelters in WA, "too busy" to do the bare minimum to save lives. 
Now, keep in mind local councils are paying good money – often thousands of dollars per week – for this level of 'service' from these charities. That's your taxes being spent to support organisations with the attitude of 'meh, photos are more work than we're willing to put in to save lives'.
In the same breath, new christmas campaigns are asking for even more money – double dipping if you will – for those same services not being comprehensively provided!
This is our animal sheltering system – the one who blames 'irresponsible owners' for the killing.
………………………………….
Tweets