I have never seen a presentation as important for animal welfare as this one 'Radically Rethinking our Response to Cats'.
If you're working to overhaul animal management in your community, then this is a must-watch – and I don't say that lightly. It pulls everything we know about cats and cat populations into sharp focus, and delivers tangible solutions for the future of cat management, if we want to stop the killing.
I strongly recommend watching the full presentation yourself at this link. However, I've shared my own notes below.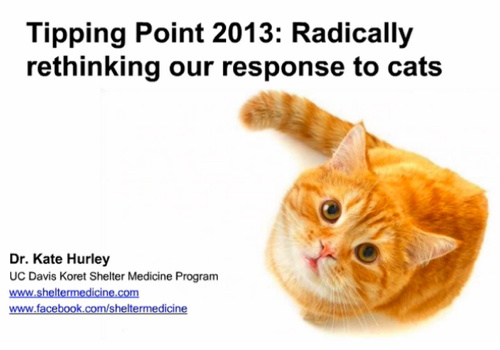 Who is Dr Kate Hurley? (from the Maddies Fund website)
Dr Kate Hurley – UC Davis Koret Shelter Medicine Program
www.sheltermedicine.com
https://www.facebook.com/sheltermedicine

Dr. Hurley has been working in shelters since 1989. She has worked in almost every capacity of sheltering including: adoption counselor, kennel attendant and California state humane officer.

After graduation from the UC Davis School of Veterinary Medicine in 1999, Dr. Hurley worked as a shelter veterinarian in California and Wisconsin. In 2001 she returned to Davis for further training as the world's first resident in Shelter Medicine. During her residency, Dr. Hurley completed her Masters of Preventative Veterinary Medicine (MPVM) with an emphasis in Epidemiology.

Since completing the shelter medicine residency and undertaking the direction of the Koret Shelter Medicine Program, Dr. Hurley has become a recognized leader in the field of shelter medicine. She has worked extensively with shelters of every size and management type, and has consulted with shelters from all regions of the United States on subjects ranging from control of a specific outbreak to shelter health care programs and facility design.

She assisted in developing guidelines for shelter animal vaccination in conjunction with the American Association of Feline Practitioners and the American Animal Hospital Association, co-edited the textbook Infectious Disease Management in Animal Shelters (Wiley-Blackwell 2009) and served as a co-author for the Association of Shelter Veterinarians Guidelines for Standards of Care in Animal Shelters.

Dr. Hurley regularly speaks nationally and internationally on topics related to shelter animal health. She was awarded Shelter Veterinarian of the Year in 2006 by the American Humane Association. Hurley loves shelter medicine because it has the potential to improve the lives of so many animals and make life better for the dedicated shelter workers who care for all those homeless pets. Her interests include population health, infectious disease epidemiology and unusually short dogs.
How did I get here?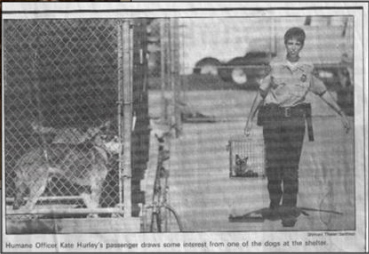 Dr Hurley is a cat lover who worked in animal control. She was proud of the work her and her team did and the efforts she made.
Even though the save rate at her shelter was only about one in four, for cats. For feral cats, there were no saves.
She believed 'in her bones' that this was the best way to serve her community. That a cat would suffer far worse harm if she was left.
Despite the evidence that many of the cats impounded were in good body condition. Cars, dogs poisons were all real risks that she was rescuing cats from.
It wasn't fair to owned cats in the community for there to be unowned ones roaming around. Cats should be 'kept'. She had a responsibility to the community.
Trapping cats was also about protecting wildlife. It wasn't fair to let cats prey on them.
Dr Hurley left to become a vet and study shelter medicine and researched feline upper respitory infection (URI). She found that the vast majority of URI's are caused by stress and not something shelter workers are doing 'wrong'.
She found cats need about 8 square foot of space and their toilet in a separate area to reduce the stress on them and reduce URI's.
Crowded cats = stress = URI
She concluded that if shelters could not offer these conditions, then they should euthanise cats while they were still healthy, as they would have to kill the cats anyway. She helped shelters design mathematical algorithms to kill healthy cats and reduce infection.
Dr Hurley began to investigate if there could be different strategies for managing unowned cats. Was it possible to be responsible to cats, wildlife and other cats? And ourselves. She says now: 'The solution is closer to being in hand than I ever thought possible'.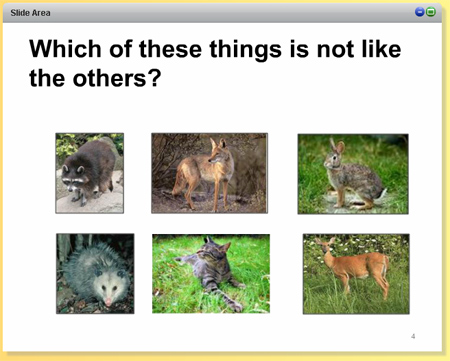 These are all 'free-roaming, freely breeding, well-adapted creatures'.
We can look at a coyote, and know it wouldn't make sense to trap them, try and calm them down in a shelter and adopt them into a pet home.
But with a cat – there's no way to tell which one she is just by looking at her. Is she a lovely pet cat, or a never-been-owned feral?
Should we be using our resources designed for pet animals to manage wild animals? Would it make more sense to use the tools we use for 'wild' animals to manage cats who are essentially wild?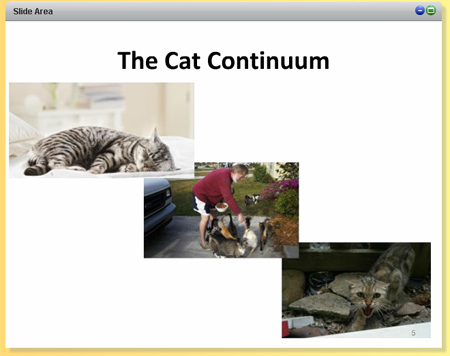 Further complicating the issue – cats exist on a continum. They can move from one part of the continuum to the other. From the cat's point of view, it is less about how 'social' she is, but how she can meet her needs.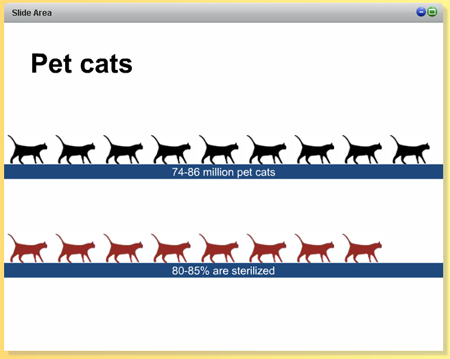 Owned cats are desexed at a greater rate than dogs. They are desexed at the rate of 95% in some communities.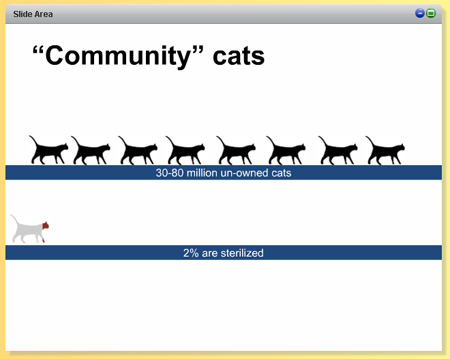 We are not reaching unowned cats with programs developed for 'pet' animals.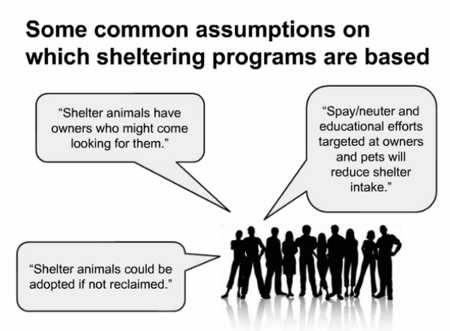 We worked on the assumption that shelter cats have owners who might come looking for them.
We doubled down on education of pet owners.
We thought we could 'adopt' the cats – even though we know this doesn't work for untame cats.
How is our approach working? Actually, pretty good.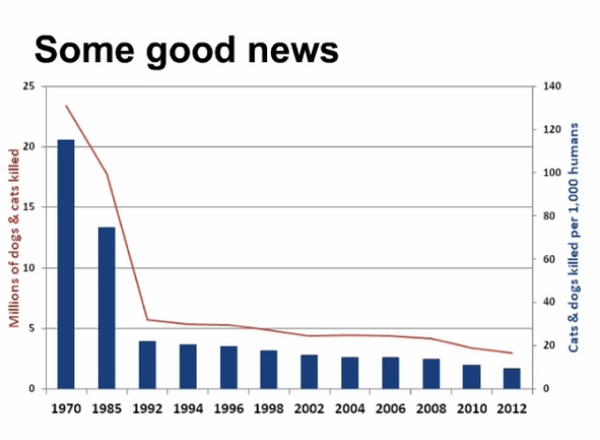 There has been a dramatic decline in the number of pets entering shelters and being euthanased in the shelter since the 1970s.
We have made desexing widly acceptable. We have increased the popularity of adoption.
But… it's not going so well for cats.
In most communities the cat intake and kill rate is going up, while the rate for dogs is going down…
It is important to remember that these are individual animals behind the stats.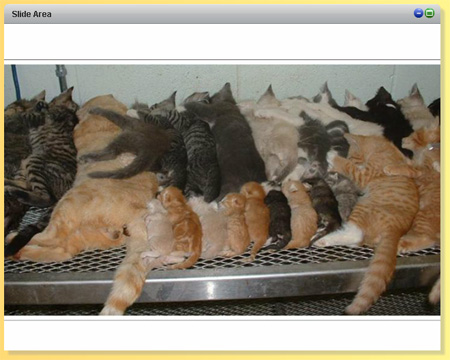 One days worth of cats. This is what is really at stake.
Many cats who likely came in, in good body condition and in good health. They may not have still been that way when they were chosen
to be killed.
What is the financial cost we're making in killing three out of four cats that we take in. What else could we be spending that money on? What other services could be provided?
What is the human cost of making animal lovers participate in this system?
What is the opportunity cost? What problems aren't we solving, by draining all of our resources on this?
Given the cost – we must have a darn good reason for doing this. It's not that we don't care.
 
What are the goals of a shelter?

These are awesome goals. However…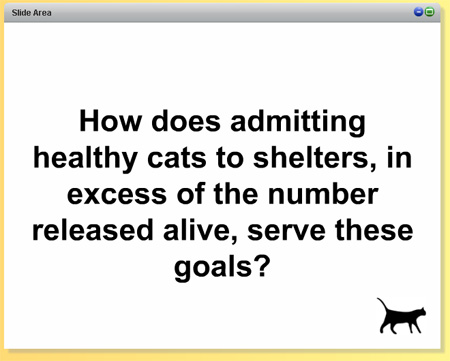 1. Abide by relevant laws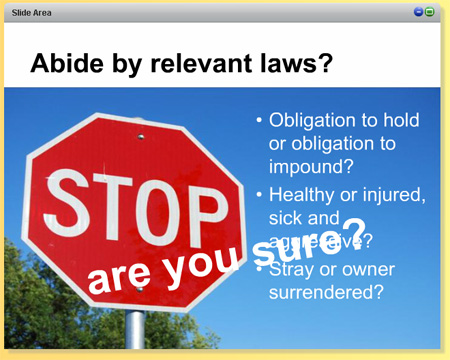 Is there a actually a law that you have to impound healthy cats?
Cats are actually benefited by their 'second class citizen' status, as they don't need to be brought in.
2. Resolve complaints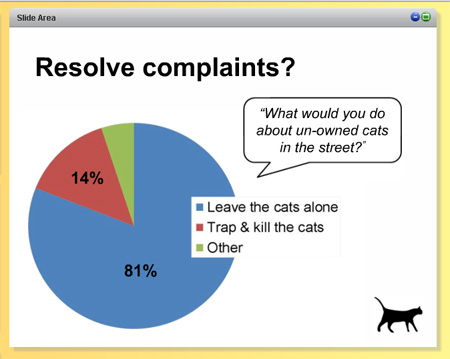 Most people aren't jerks. If they think the cat will be killed, they'd rather you left it alone.
We can offer healthy solutions, that help people live in harmony with cats. May be more cost effective. Will be more successful.
3. Reunite cats with owners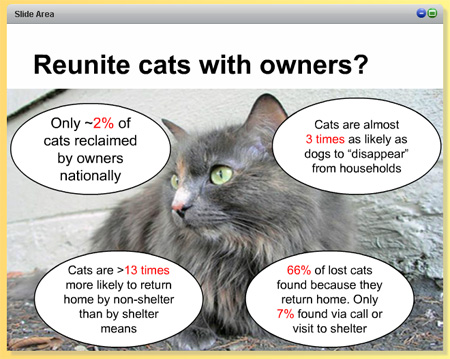 The numbers of cats reclaimed vary from terrible, to completely abysmal.
People wait for their cats to come home.
When we bring them into shelters, more often than not, we are interfering with their ability to get home.
4. Maintain health and welfare in the shelter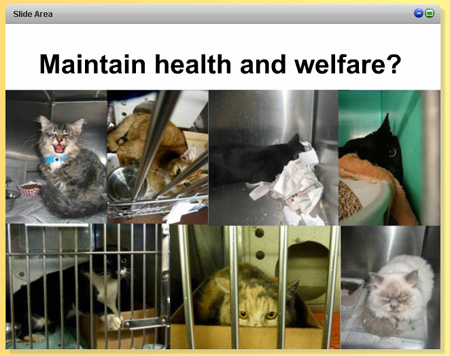 We are failing to meet their basic needs for comfort and care.
5. Find new homes for pets
Adoptions – many cats can't be adopted. There aren't enough 'barn homes' to go around. Adoptions are plateauing.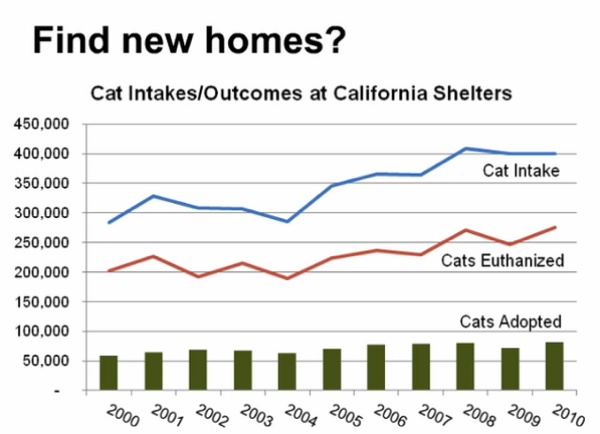 Plus, we aren't the only game in town…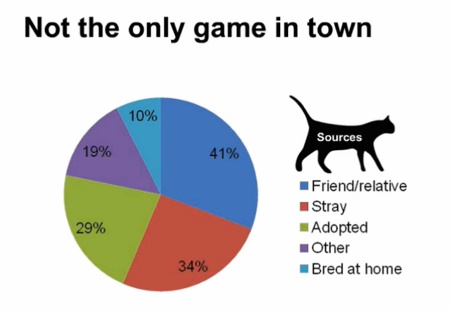 The second biggest 'slice' of this pie graoh, is people getting a cat from a 'friend or relative' – which is people taking cats of friends and relatives who couldn't keep it. These cats, who would otherwise go into shelters. And strays are cats coming off the street, who would also go to shelter.
So 'taking' market share from these sections, doesn't actually help our mission.
People are capable of rehoming cats. We can help them with desexing, vaccination, microchipping etc. And we can do that better if we're not up to our eyeballs in healthy cats. And we can do it better if healthy cats can stay where they are, if we can't offer them a home.
Waiting lists – forming a waiting list for stray cats. 
A shelter in California started using waitlists for stray cat intakes. At one point they had over 700 cats on their waiting list. But an interesting thing happened. Over 400 of those cats never came into the shelter at all.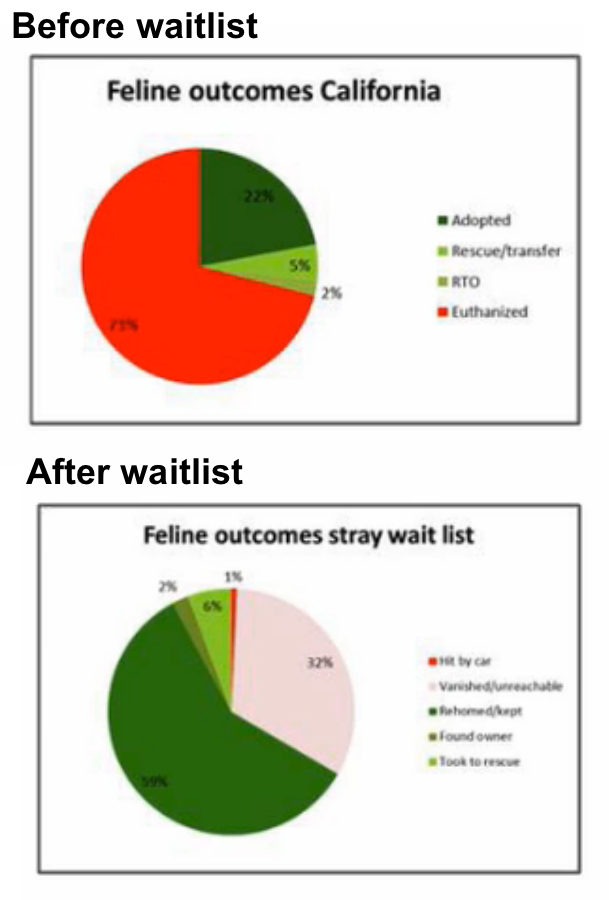 The largest segment of this 'pie' totally flipped. The outcomes changed from euthanasia at the shelter, to adopted into a new home. People rehomed the cats themselves. There were suddenly 400 off-site adoption centres, with a fresh crop of new adopters. They had better access to the community.
Or they simply kept the cat.
Some people looked around and found the owner of the cat and the cat went home.
The pink piece represents people who were unreachable, or the cat vanished. Maybe it was a bad outcome, but maybe went home, or the person simply couldn't be bothered answering the call.
The situation was resolved in the community.
6. Euthanise suffering or dangerous animals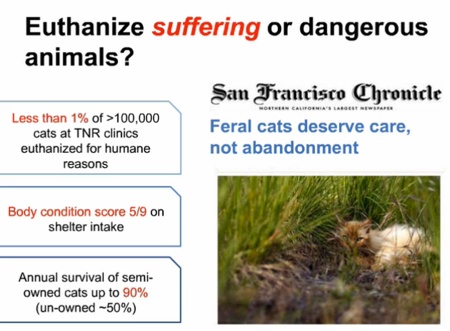 They often come to us in good condition – but we can't maintain that.
Semi-owned cats, with access to food and water, have a 90% chance of survival.
We *know* which cats have access to food and water – those who have good body condition when they come in.
Re: 'Feral cats deserve care, not abandonment' – Euthanasia is not care. Allowing a cat, or any living being, to live in an environment where it is well adapted, and has access to food and water is not abandonment.
We can help by desexing, but in every other way, they are already receiving the care they require.
Euthanising healthy cats, is not preventing suffering.
More and more pressure is being applied to animal control to not be killing pets. AP-Petside Poll – 7 in 10 pet owners say shelters should only kill animals too sick or aggressive for adoption.
Most cats are not dangerous – giving us much more flexibility in their management.
How do you define euthanasia? We cannot deliver 'euthanasia' to feral, healthy animals.
What is 'humane' about eliminating untame cats? How is people poisoning cats out in the community different to us poisoning cats in shelters?
By conveying to the public the idea that we can offer a 'humane' euthanasia, we are oversimplifying the actual experience of feral cats.
The experience of a fearful or feral cat proceeds:
– capture
– transport
– holding
– handling
– injection
– death
Humane?
7. Mitigate harm associated with free-roaming animals
No doubt cats prey and injure wildlife. In some areas the effects are negative. In other areas, the resulting surge in rodents is more detrimental to the overall population of wildlife. Each microenvironment needs to be appraised individually. We need to do an ecological evaluation BEFORE sending in animal control.
Even if we *do* decide removing cats is a good plan – we don't actually do it in a structured, targeted way. We simply just wait for people to just 'bring in some cats'. We're not really doing anything constructive, we are randomly impounding.
Shelter euthanasia and holding is a terribly inefficient and expensive way of doing this any way. We need to look at other methods of control.
7. Reduce pet overpopulation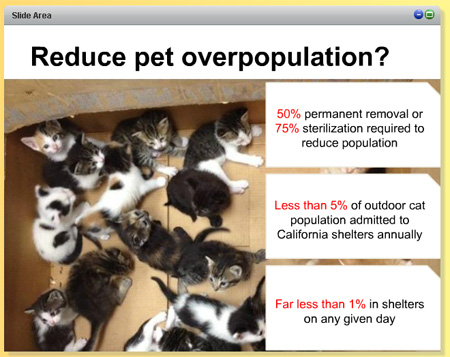 Concern – we will be overrun! We need to keep impounding and killing, to keep tabs on the situation – working as hard as we can to counter the tide of cats.
Unfortunately, our actions are not sufficient to control feline overpopulation.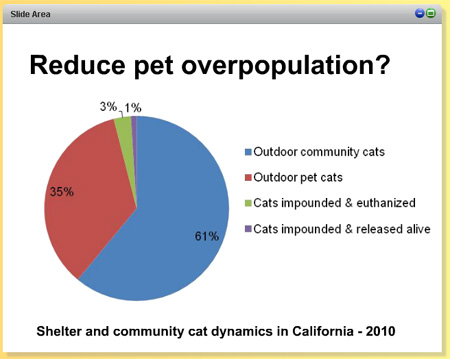 Only a tiny fraction of the cat population is being effected by the shelter process (about 1% – 3% euthanised). There is no conceivable mathmatical model whereby removing 3% of the population will control the population. Removing even 10% is not sufficient. To remove nusiance or risk to wildlife.
We need a different approach.
Critisms of TNRs is that the required amount of desexing will not control the population. But sheltering does not reach this level either – so why are we doing it?
We cannot possibly impound and kill enough cats to impact their population.

 
Rethinking our goals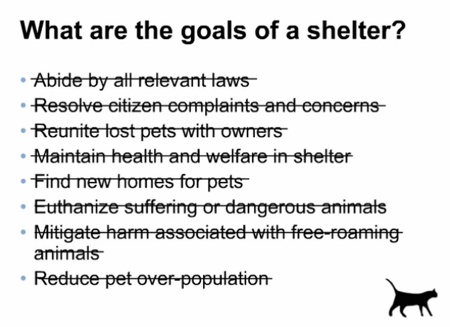 'Admitting healthy cats to shelters, in excess of the number released alive', does not serve ANY goal of a shelter.
 
What is the opportunity cost?
The opportunity cost of an ineffective program is that we do not invest in an effective programs.
We are using a tool that is mismatched with job. It doesn't work and it hurts a lot.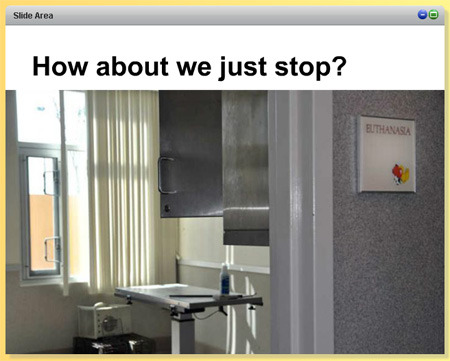 What could we do instead: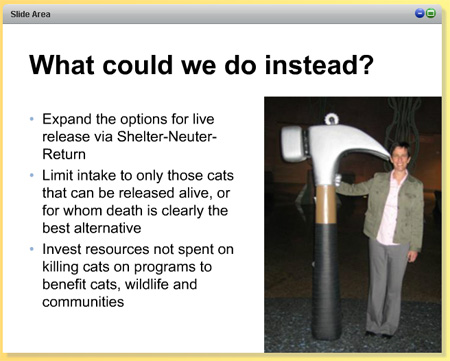 Build programs that make everyone safe in your community.
 
Our current roadmap
All roads lead to the shelter.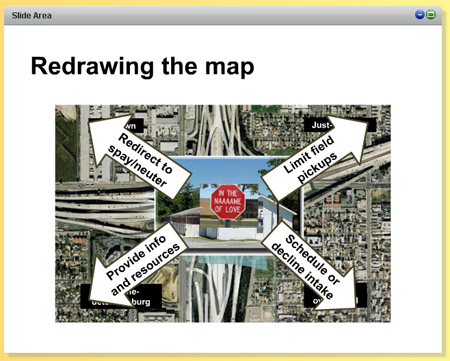 What could people do with cats?
– TNR – help them access desexing services
– Just deal with it – limit field pickups
– Humane deterrent – provide information and resources
– Find the owner – schedule or decline intake
Turn the map around. Give the community tools to help cats.
Here's what you can do.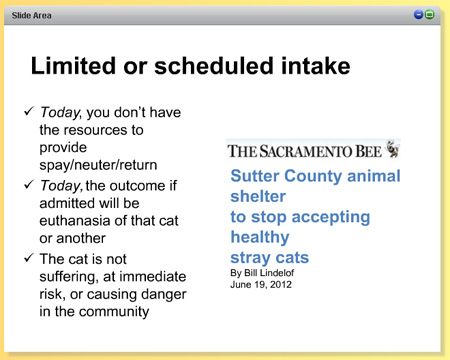 Tell them we don't have the resources today – but here's how you can deal with it. How to stop the cat being a nuisance.
It might not always be the answer – but it might be the answer today, for THAT cat. This is not the answer – for the cat with a good body condition in a stable situation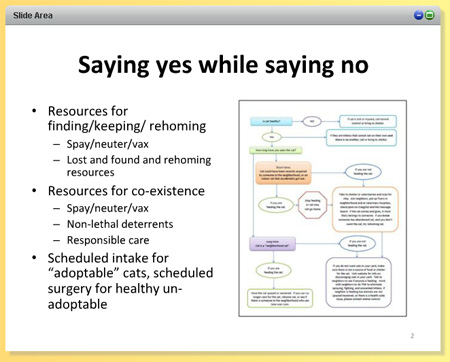 We're not reduding the investment in cats. We're recognising that;
– sometimes the answer is admission to a shelter
– sometimes the answer is something else
– being managed in the community
– is not no – but not now
– hangon and bring it in later
Case study – San Jose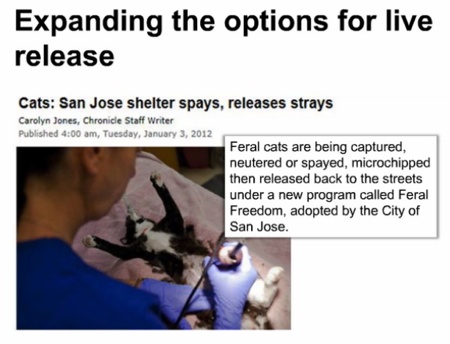 Results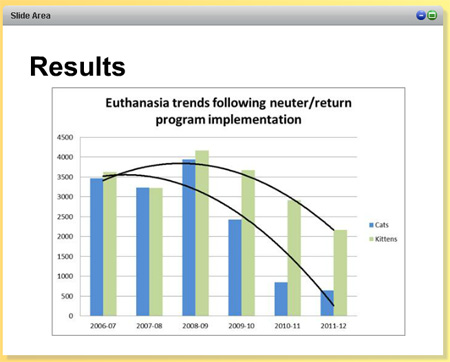 Giving yourself more resources
Taking in less cats – is like being given a big stack of money. You will have more staff time for other, better programs.
Take your savings from reducing your intakes, and redirect into TNR.
Start small if you need to. If you can handle ONE cat differently.
If you can TNR ONE cat. If you can council ONE owner.
There is going to be exceptions. TNR won't be appropriate for all cats – but as they become the exceptions, not the rule, you will
find you have more resources to really help.
Cats can be ok. They are incredibly adaptable creatures. Sometimes we just need to get out of the way and let them.
Everyone who gets this information implements it to just one cat – then we'll reach a 'tipping point'.
 
Sharing and watching
Please note – this is simply my notes and not the full presentation. There were some other excellent case studies and research included which is worth a review.

Watch the full, recorded Maddie's Fund seminar at this link.
Interested in spreading the word locally? A quick share link of a recorded version, for local animal management is here: https://vimeo.com/69593025